After receiving feedback from thousands of agents like you across the state, we're happy to announce New Features 

available through

NSDCAR as a Free Member Benefit

 that makes completing disclosures simpler and more efficient than ever

.

  
Send the DIA, PSD, VLQ and EHR in addition to the TDS, SPQ, AVID, ESD and FLD for completion online
You can share links to specific questions with sellers so they can easily access them for revision
Sellers can easily revise their answers by searching key words to navigate between questions
You and your sellers can see a live PDF preview before integrating with zipForm® Plus to generate the complete disclosure forms
Glide provides sellers with advanced contextual help and definitions to address common issues on the TDS & SPQ
You can personalize email notification settings
New Forms 
Glide welcomes the DIA, PSD, VLQ and EHR to its Forms Library
All of the most time-consuming and complicated disclosure forms are now available on Glide, including the DIA, PSD, VLQ, EHR, TDS, SPQ, AVID, ESD and FLD. Upon creating your Disclosure Packet, simply select as many forms from Glide's library as needed from the dropdown menu.
Improved Client Experience
Navigating forms has never been easier! Clients can search for questions and preview answers inside of the PDF
Search bar.  Sellers can now use the search bar to navigate between questions and easily revise their answers on Glide.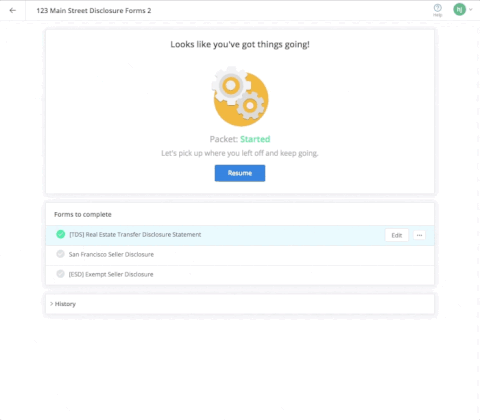 Seller Review Mode. Sellers can preview the form's PDF compared to what they have already completed while navigating through the question and answer experience on Glide by clicking "Preview" at any time.
Improved Agent Experience
Share links to direct sellers to specific questions for revision, preview PDFs before syncing the transaction in zipForm® Plus, connect unlimited zipForm® Plus accounts and personalize notification settings 
Link to Questions & Preview PDF. While reviewing your client's answers, you can direct them to specific questions for revisions by copying and sharing unique links to those questions. The links are found under each question. You also have two options for reviewing your client's answers, either within the Glide wizard or by selecting to "Preview PDF" to see the answers on the CAR form.
Connect multiple zipForm® Plus accounts. Simply select from the dropdown menu of previously added accounts or select to add a new account.
Personalize notification settings. Don't want to receive an update when your client begins their disclosure forms packet? How about when the client forgets to submit their final documents for review after answering the forms questions? No problem! Glide allows Agents and TCs to personalize notification settings to eliminate unnecessary notifications.
Streamlined AVID
Completing Agent Visual Inspection Disclosures has never been more easy, convenient and professional
Take photos on-the-spot and attach up to four photos onto a single page and Glide will automatically compress your files to reduce bulky file sizes.